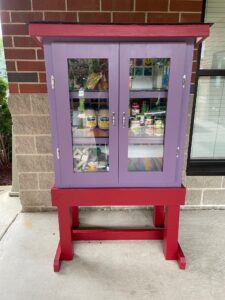 Thanks to Girl Scout Marie Nelson, First Presbyterian Church of DuPage is now home to a Micro Pantry! It is filled with non-perishable food items, toiletries and more to help our neighbors in need. The Micro Pantry is located on the left of our main entrance.
This Micro Pantry has some truly unique and beautiful features. The outside is painted with FPCD Purple and with Church Red classically symbolizing the work of the Holy Spirit. Inside are small paintings designed by younger girl scouts who learned about food insecurity from Marie and made the decorative panels for this Micro Pantry. We are so grateful for Marie's creativity and service to the community with this project!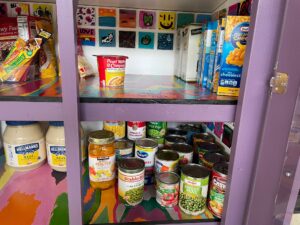 Micro Pantries run on a "Take what you need. Leave what you can" policy and are designed to bring communities together to help those in need. Everyone in our community is invited to leave or take non-perishable food items, toiletries and diapers.
Please note, while we make every effort to make sure food is fresh, please be cautious and check for expiration dates and spoilage. FPCD is not liable for any harm caused as a result of expired items, food allergies or other concerns.
We will be dedicating the Micro Pantry as part of the Girl Scout's Gold Award Ceremonies some time in March. Stay turned for more information!