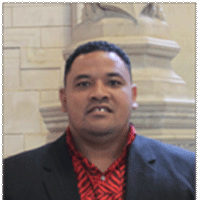 Thank you for joining us to hear Maina Talia, PC(USA) International Peacemaker from the Pacific Island Nation of Tuvalu who presented on Wednesday, September 21 at 7pm at First Presbyterian Church of DuPage.
For over a decade, Mr. Talia has been advocating for a strong response to climate change, an existential threat to his homeland, the Pacific island nation of Tuvalu.

He currently holds the position of Tuvalu Climate Action Network (TuCAN) Secretary, where he focuses on climate change and theology merged with indigenous issues. Talia has attended several United Nations conferences on indigenous issues in New York and Geneva. He has served on the Tuvalu government delegation to six of the last ten UN Climate Change Conferences of the Parties (COP—Doha, Paris, Bonn, Katowice, Madrid, Glasgow) and will be attending COP27 in Egypt this year.

As a result of climate change; increasing ocean temperatures, sea level rise, decreased precipitation and higher intensity storms and tides are wreaking havoc with many aspects of life in the islands. Fresh water, mainly sourced from rain or very limited aquifers, is threatened. "King" tidal surges swamp more and more homes and businesses. Already minimal agricultural crops are threatened by saltwater encroachment. And coral bleaching (death from higher ocean temperatures) has decimated fish habitat depriving both fisheries and dinner tables.

All are welcome to attend this presentation, which is free and open to the public, in our Fellowship Hall at 180 N. Weber Road in Bolingbrook. Doors open at 6:30 pm. For more information, contact FPCD at 630-759-8843 or firstpresdupage@gmail.com. Visit the Presbyterian Peacemaking page for more information about the International Peacemakers.

No collection will be made at the time of the presentation, but the following opportunities provide an excellent way to make a contribution to express appreciation for the visit of the 2022 International Peacemaker.
To make a gift by check, please mail it to:
Presbyterian Church (U.S.A.)
P.O. Box 643700
Pittsburgh, PA 15264-3700
A receipt will be sent to you when your check is processed. Be sure to keep a copy for your records.

To make a gift online, go to: https://www.presbyterianmission.org/donate. You will need to input either the ECO number or name to find the correct ECO.
To learn more about Maina Talia, see articles on the PC(USA) page.