We are excited to be welcoming Rev. Achowah Umenei, who is ordained in the Presbyterian Church in Cameroon, to the FPCD pulpit on Sunday, May 21 at 10am. Read his biography below & invite your friends for this exciting guest preacher.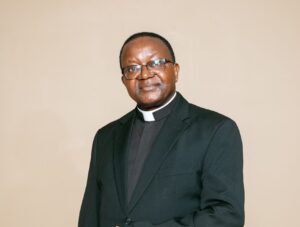 The Rev Achowah Umenei, is a retired pastor of the Presbyterian Church in Cameroon (PCC), a partner Church of the PC(USA).

He had his four year theological formation in Cameroon, and trained as a journalist at the American University in Cairo, Egypt, and at the Indiana University School of Journalism, Bloomington. In addition to the first degree in Theology, he has a BA and MA in Journalism.

The Pastor had professional training in Radio Broadcasting with the Voice of America (VOA) in Washington DC, the British Broadcasting Corporation (BBC) London, and the Deutsche Welle (DW), in Cologne, now operating in Bonn, Germany.

While in active service, he served his local Church in various capacities. Some of them included National Communication Secretary, Station Manager of CBS Radio, FM 95.3, Editor of Presbyterian Messenger, Scholarship Secretary, Constitution Secretary, and lecturer in Journalism and Mass Communication at the Cameroon Christian University (CCU) Bali, Cameroon.

Internationally, the pastor was the President of the World Association for Christian Communication Africa Region (WACC-AR), for 10 years, and one of the Directors of WACC Global with headquarters in Toronto, Canada. He also served as the National Correspondent of the World Council of Churches' (WCC) Scholarship Scheme for Cameroon for 22 years.

The Rev Umenei is married to Judith A Umenei, a retired teacher trainer of the Government Bilingual Teachers' Training College, Bamenda, Cameroon. God blessed this couple with four children, two girls and two boys.

This pastor is an author of six books, with the seventh currently in the printing press. At the moment, he produces a bi-weekly podcast, known as "Believers On Board".