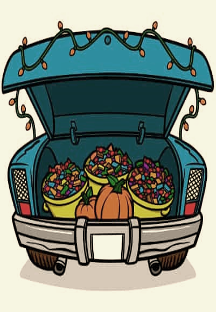 Friday, October 28, First Presbyterian Church of DuPage Presents: Trunk or Treat from 5pm – 7pm.
Showcase your holiday costume, see cars decorated imaginatively, receive candy treats, and make fun crafts!
Bring a non-perishable food item to support the DuPage Township Food Pantry–Collected by Boy Scout Troop #75.
Want to decorate your car and give away candy? See this Trunk or Treat List or this article for great car & truck decorating ideas and contact Pastor KJ Norris at FPCD to get involved!